As you create your posts and pages in your website you need to ensure that you have done it right for the sake of your visitors and search engine rankings.
You need to ensure you have optimized your on-page SEO as well as check on the site health on external factors such as backlinks and social media performance and check what your competitors are doing to outrun you.
These factors are important to check to ensure you rank negatively and drain all your efforts to nothing.
You need the right tools to help you accomplish this with ease and most affordable cost. That's where Seobility review comes in.
Seobility is one of the most affordable tools with a completely free version for website ranking check for on-page and on-site analysis.
What is Seobility?
| Item | Information / Score |
| --- | --- |
| Name | Seobility |
| Country of origin | Germany |
| User Interface | Easy to use |
| Help and support | Available chat and email even for free users |
| Training | Text manuals, no videos |
| Price | Free plan available, Lowest paid plan is USD50/month |
| Lov 4 Affiliate Ranking | 4.2 of 5.0 |
Seobility was started in 2013 as a free SEO check tool before it upgraded to all in one SEO tool in 2017, and currently with over 100,000 users worldwide.
It's an SEO checker for websites that is online that is designed to scans any web page for technical faults and SEO problems that can have a negative influence on search engine rankings.
It's used to get a whole list of errors found on your web page and allows you to find out where you still have to improve your website.
Seobility checks your entire website by crawling all linked pages, and clearly displays errors and problems with on-page and on-site optimization.
If you are worried about having a continuous automatic review, your website can be constantly crawled to track the progress of your optimization (not available for free users) and you will be notified in case of severe problems.
Moreover, Seobility provides Backlink monitoring as well as Ranking monitoring. For content creation, the TF*IDF tool completes the package.
Why Seobility?
Seobility has tons of features which are vital for on-page SEO. They range from technical features to content and features associated with your site structure.
With Seobility, you can crawl your website once every 24hrs and get a comprehensive report for free. This is a service that you will hardly get in any other tool.
Many tools out there e.g sitecheker.pro and others will analyse your site for you for free but will only allow you to see your report partially until you upgrade your plan.
This is not so with Seobility which allows you to access most of the available reports and recommendations, except for the backlinks report which you need to get a premium plan.
Seobility is an affordable software compared to its competitors, with the lowest plan costing USD50 per month.
Sign up and check your entire website
A valuable on-page SEO check for your website has never been so easy. For small websites with up to 1,000 pages, it's completely free!
Seobility Review – Features and Tools
There are several features that are analysed by the Seobility bots and are categorized into the following groups
Site Audit
Website Rankings
Backlink Analysis
TF*IDF Tool
1) Site Audit
When you create a project you will have given Seobility permission to craw your site for all linked pages. This is only possible when you create an account, whether a basic account for free or premium and business paid accounts.
You will then get craw results with all errors found in your site ranging from pages with the on-page SEO problems, page content problems like duplicate content, missing headers, typos, too little text missing headings and many other errors.
Users under Paid plans can get a continuous review of their website, to track the progress of your optimization, while the free user will have to perform manual craw once every 24 hours.
You also get craw notification in your email to enable you to get results.
You will also be notified by the monitoring service with the status of your website via e-mail if server errors and major problems occur.
Site audit allows you to observe the following issues:
a) Meta information
Meta-information is displayed on search engines for readers to get a quick glimpse of what the page is about.  They help to make sure that search engines understand what your website is about, and to categorize your content.
The Seobility SEO Checker identifies errors in your meta-information, such as:
Meta titles and descriptions that are either too short or too long
Meta tags that prevent search engines from indexing your website
Missing of canonical links
Inconsistent in language declarations
Domain names or page URLs that have problems
b) Page quality
Since content quality is a major issue in SEO success, Seobility identifies page quality issues such as:
Pages with too little text.
Duplicate content in your page
Outdated website elements such as framesets
Poor optimization for mobile devices display
Images without alt attributes
Ads that overlay your content
c) Page and link structure
Linking internally and externally is important when search engines analyse your content. Seobility SEO Checker identifies problems that make it difficult for search engines to analyze your website, including:
H1 headings that are too short or too long
Wrong order of headings or empty heading tags
Internal links with dynamic parameters
Duplicate anchor texts of internal links
Unfavourable amount of internal or external links
d) Server configuration
On-site optimization should not be overlooked though sometimes they may be technical and difficult to identify, they make it easy for search engines to crawl your website.
The SEO Checker will scan your web page for server errors and other technical issues like:
Wrongly configured redirect between www and non-www domains
Problems with your HTTP header
Long page response time
A high number of CSS and JavaScript files required to load
Huge HTML file size
e) External factor
Off-page factors that can hider your site speed are also important to be identified and rectified.
With Seobility online website SEO checker, you can easily identify weaknesses your website might have in the following areas:
Blacklists: Identifies when your website blacklisted that prevents it from being displayed in search results
Backlinks: Checks the number of backlinks signal to search engines to show that your website is recommended by other sites and offers valuable content.
Social Media: Checks the extent t which your website shared on social media
2) Website Rankings
Good keyword optimization on a specific keyword or topic is essential for your ranking on search engines.
Seobility will help you to understand the difference between your competitors and your website regarding keyword optimization and the reason why they achieve a better ranking in search engine results.
SEO Compare tool will allow you to compare the keyword optimization from two websites based on one or more keywords and analyzes the specific differences.
Seobility keyword rank tool can check your search engine position ranking for any search term, including rankings from specific cities or countries as well as mobile or desktop rankings.
You need to be logged in to be able to perform this website rankings.
Basic members receive 10 keywords and 3 competitors free of charge, while the additional features are for premium members.
This keyword monitoring tool includes the following features:
Premium membership includes 100 keywords per project
Daily Top 100 keyword ranking updates
Supported search engines: Google (US, UK, DE, AT, CH, FR, IT, ES, NL, BE, DK, PT, PL, RU,…)
Search volume, average CPC and competition per keyword
Monitoring of up to 20 competitors and detailed competitive comparison(domains)
On-page and search snippet analysis of all ranking URLs
Suggestions for improved keyword optimisation
Weekly ranking report by e-mail
Features for premium members only
PDF and CSV exports of ranking data, analyses, etc.
Automatic review of desktop and mobile rankings
Local search results for local businesses and shops (city-based)
3) Backlink Analysis
Backlinks are very important for successful search engine optimization. Check your backlink profile or your competitors to get new backlink opportunities. Choose URL for backlinks of a specific page or domain for all backlinks pointing to a domain.
Features of Seobility backlink monitoring are only available for premium members, however as a basic member, you can only have a maximum of three backlinks test.
The features include the follows:
A weekly update of the backlink profile
The list of all backlinks, new and lost backlinks and backlinks per anchor text
Link building tools to increase your backlinks
View a complete backlink profile of your competitors
Competitor comparison based on backlink metrics
Export of backlink data in PDF and CSV
4) TF*IDF Tool
The TF*IDF analysis will give you important insights into the text optimization of well-ranked websites. Identify essential terms and keywords that are of special relevance to search engine ranking for particular search terms and compare your content with your rivals.
The formula for the calculation of TF*IDF was initially utilized in information technology to assign weighting factors to words in a text collection or library.

In search engine optimization, this formula is used to optimize sites for specific search terms, creating unique content. TF*IDF is not an exact science to better understand the search engine rank of specific content, it is rather a tool for a number of use cases.
5) Seobility Features without login
Features that you can use without logging and are found at the footer of Seobility site includes
Offers an overview of SEO check including Meta information, Page quality, Page structure, Link structure, Server, External factors.
This tool gives an overview of keyword check including meta attributes, HTML optimization.
Use this tool to get Google rankings for your website
Compares two websites at the same time for keyword optimization given a specific search phrase
Checks the backlinks for any website for free.
The Redirect Checker helps you to find problems with non-consistent redirects on your website, based on target base URL such as https://www.example.com, https://example.com, http://www.example.com, http://example.com.
This is the newest tool that allows you to see the search result of your post as would be seen by others after searching it
Open the Seobility site and get all the above features from the footer of the page, under SEO tools for free.
File Source Analysis -New Seobility Feature in 2020
This is a feature introduced by Seobility to analyze images as well as CSS and JavaScript files on your site on top of analyzing HTML codes. The analysis covers the following areas:
Crawled file sources: This is an overview of all media and files that the Seobility crawler found on your website.
Non-retrievable file sources: Lists the total number of files that could not be retrieved from your website for various reasons.
File sources excluded by robots.txt: Displays the files that are blocked in your robots.txt file and thus can't be accessed by the Seobility crawler.
Non HTTPS content on HTTPS pages: It shows the list of all pages that are encrypted for transfer via HTTPs but are linked to unsafe files (non HTTPS content).
Issues with file sources: This report displays files with several problems such as missing compression, long loading times, or redirects.
Too many files within a page: This report lists all pages that contain a high number of media and files.
Pricing
There are three different plans to start with
The basic account is free to optimize 1 project or domain and up to 1000 pages to be created. It's appropriate for small websites. You have to wait for 24 hours before you perform a recrawl on your project in the free plan.
The premium charges USD50 per month with a 30-day free trial, to optimize 3 projects and immediate recrawl without waiting.
a) Basic plan
It's best for beginners with less than 1,000 pages. It's completely free and includes:
one Included projects
1,000 maximum crawled pages
100 checked external links
1 parallel crawler
Waiting for one day before re-crawls
10 included keywords
3 competitors per project
Desktop ranking
Country search based location
No backlink analysis and monitoring
And other general features
b) Premium Account
Designed for professional websites with less than 25,000 pages, it costs USD50 / month but has a 30-day free trial and includes:
3 Included projects
25,000 maximum crawled pages
25,000 checked external links
3 parallel crawler
Immediate re-crawls
300 included keywords
20 competitors per project
Desktop and mobile ranking
Cities and Country search based location
Available Backlink analysis and monitoring
and other general features
c) Agency Plan
For large websites and agencies, it will cost your agency USD200 / month without any trial and includes:
15 Included projects
100,000 maximum crawled pages
50,000 checked external links
5 parallel crawler
Immediate re-crawls
1,500 included keywords
30 competitors per project
Desktop and mobile ranking
Cities and Country search based location
Available Backlink analysis and monitoring
and other general features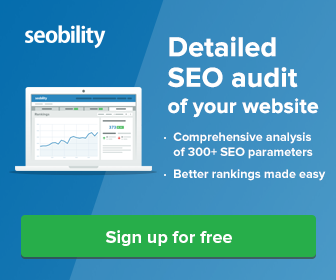 Final Thoughts on Free Website Ranking Checker
Seobility to me it's a hidden gem with tons of tools and suitable for beginners as well as experienced website owners.
Whether you have one site or several sites you will find Seobility a useful tool for your SEO optimization.
The most important point of all is that you can get most of those tools for free and especially if you are a starter in the field of blogging or any other work that requires a website.
If you need of a website ranking checker for free, then I would recommend Seobility
Having said that Seobility still may not be able to offer the comprehensive services from other tools such as Semrush  or Ahrefs but it's a tool to reckon with in the world of SEO
I hope I have found this information useful. You may leave a comment on your experience with the use of Seobility and other tools.